March went by fast as we already kick start April- on a Monday. There's a lot of fun events going on this week and throughout the month. For the past two months, I've been writing miniseries posts to keep me writing and to air out my random ideas. In February, I wrote about relationships; in March, I wrote about spirituality; and for April, I will write at least seven posts about environmentalism.

Over the past year and a half, i"ve written a section on reading & bookmarking.
To make this post a bit shorter by a paragraph, I've added the reading and bookmarking to the follow up post for this Wednesday, the TBR 04.2019 post.

Let's dive into this month's taking inventory series!
Word of the Month: Improvement. I"ve used this word before sometime last year and for this month, i"m using this word to hone in on some small tweaks I'd like to make to simplify my life. Is it even possible to simplify life? I'll have two papers due this month and an exam. The government exam and world literature paper is this week and then the second paper due on the 19th. I'm working on returning to a normal schedule with fitness and going to class after falling off the wheel in February and getting back to a sense of normalcy in March.
I also plan on making small improvements and adjustments to my mental health after going through two not-so-fun panic attacks in late March.

Eating & Drinking: In March, I was able to go 24 days without going out-to-eat or drink. I started this trend to work with for part of my lent season spiritual practice. If I do go out-to-eat this month, it'll be after Easter or to go to my local coffee & tea shop.
For home cooked meals, I've been enjoying how I use my slow cooker. I plan on trying homemade spinach & artichoke pizza, snacky dips for chips, and more vegetarian options.
Watching: I have taken a small break from watching MCU movies. I've now got Black Panther, Infinity War, and Ant-Man & the Wasp left before I'll go see Endgame. I most likely won't see Endgame until the movie is screened at my university movie theater before going to DVD (AKA the fall semester). Besides that, I'm still binge watching the last of Reba with only 85 episodes to go.

Listening: This month's audio book is a selection from the Potterhead Running Club Book Club (PHRC) for the month of April… it's been on my TBR list since last year! The group of 700 readers on our Facebook group voted for Child of Blood and Bone by Tomi Adeymi. I'll get to listen to this book via overdrive at my local library. I'm super excited for this book!
Smelling: I'm down to three candles now- one mini unscented red one; one given to me last month aptly called "happy"; and the wonderful "Sherlock Holmes Study" scent from Frostbeard Studio.
I almost forgot to mention that I'll get to transplant and do a lot of gardening work starting next week. I'm waiting for the winter frost to end before moving my plants outdoors.
Writing: Two papers, will be starting a third essay at the end of this month. The first paper is due April 6th for my world literature class; the second due on April 19th for my government class; and then the final paper for my world literature due May 4th.
During downtime, I'll write the environmentalism series for this blog as well as a few reviews planned for this month. With April being National Poetry Month, my goal is to journal a poem a day. Poetry is my worst suite and I'm looking forward to writing a few lines a day.
For those who participate in Camp NanoWriMo, I wish you the best this month! I'm mainly just writing papers, poems, and editing this month for my camp season. Time for the smores!
Waiting for: WrestleMania 35 is on Sunday, April 7th. I haven't kept up with the current wrestling much but I do understand what stories are being told. It's currently "WrestleMania week" and this weekend is a full weekend of fun things to watch as the show will be in the New Jersey-New York area.
The WrestleMania event itself is set to be 8-ish hours and I'll be at home all weekend recovering from an exam and a paper that I'll have turned in the day before WrestleMania.

I also get to have an interview with a radio show on Wednesday, April 3rd that I am also excited about. I'll share that recorded episode on my blog when its up! 😀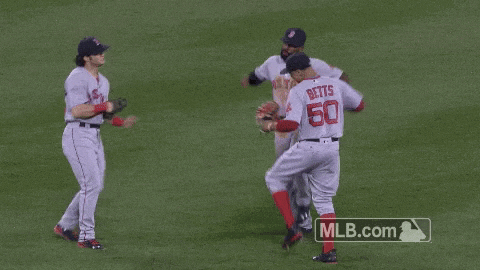 Loving & Enjoying: Opening Day for Major League baseball has come and gone with the Boston Red Sox home game on April 9th. Just stating that I'm excited for baseball season is an underestimate. I used to not like baseball a few years ago, until I went to my first game in Boston. Ever since then, I've flipped on which sports I enjoy the most. I'd love to go to a MLB game this year, but finances are a struggle with being a college student again.
Feeling: Like I'm recovering from stress and anxiety. Do you ever realize how tiring it is after going through a panic attack or anxiety? I'm doing better today and slowly learning how to just be okay with where I am in my life.
And speaking of feelings, I am very grateful for my cat, Jupiter. I adopted him in September right after I said I could still go without having a cat. My counselor and other people in my life suggested I adopt a cat because of a terrible mental state I went through in September.
Thanks for checking out today's monthly Taking Inventory Series! Check back on Wednesday when I share what books I'm reading this month.
What are you most excited about this month? I'd love to know in the comment section below.
Cheers,
Danielle